Read.write.as is where people go to find themselves in others. It's a place where your real-life identity doesn't matter as much as the words you share. Here you're free to be yourself and dive deep.
Start writing now.
Submitting
Everything you publish on Write.as gets a shareable link on that site, which you can post to social media or share over an email if you want.
To publish here to read.write.as, either submit a post anonymously (learn more), or upgrade to Casual for $12 / year and make your blog public.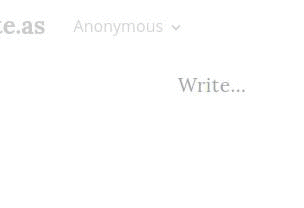 Discussing
Join our microblogging community, Writing Exchange, to share your work and talk with other writers.
Ready to start writing? Create a post or make a new blog.